BIA English Language Arts Ms. Cheng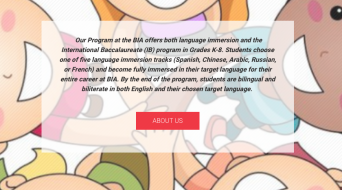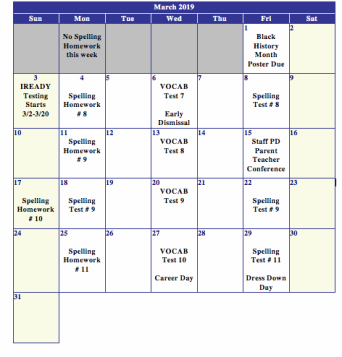 Weekly Updates:
3/22: Spelling Test # 9 and Homework due on 3/22
3/20: Students will continue to explore other types of figurative language such as personification and hyperbole. Students understand that writers or authors use figurative language in their writing to 1. Make it more interesting 2. Add more meaning for the readers because it makes them think and feel a certain way and 3. Paint a picture of the image in their head.
3/19: Students will be taking Vocabulary Test # 8. Students will be able to distinguish the difference between the figurative and literal meaning of sentences. Students will be able to write their own examples of similes and metaphors.
3/18: Students are done with all IREADY testing in Math and Reading, Makeups will take place this week. Students will continue to work on identifying and explaining the meaning of similes and metaphors in context. Third graders will start PARCC review in class.
3/15: School Closed-Professional Development and Parent Teacher Conferences
3/13-3/14: 2nd Graders in the Russian and French will be taking their IREADY reading test. Please bring headphones to school.
3/12: 3rd Grade students will be working on different types of figurative language: similes, metaphors, personification and idioms. They will continue to work on identifying different types of figurative language in poetry throughout the week.
3/11: IREADY Testing for 2nd Graders class schedule will be different. 3rd Graders have spelling homework due on Monday and Vocabulary Test on Tuesday.
3/6: Half Day Schedule – 3rd Graders Vocabulary Test
3/5: 3rd Graders will be taking the End of the Year IREADY Reading Test. 2nd Graders are working on reading various types of poems and identifying the structural elements and main idea.
3/4: 3rd Graders will be taking the End of the Year IREADY Math Test. 2nd Graders are working on reading various types of poems and identifying the structural elements and main idea.
3/1: 2-hour delay due to inclement weather and 2nd graders on Field Trip. Black History Month Project Due.
2/28: Black History Week Showcase on 2/28 at 5PM
2/27: Quarter 2 Award Ceremony in the multipurpose room for students in grades 2-4 at 9:00PM on Wednesday 2/27 (Honor Roll and Principal List Only)
2/26: 3rd Graders will be given Vocabulary List # 7 Test will be next Wednesday on March 6, 2019.
***Dear Parents,
I received a few email concerns over the Black History Month project that was recently assigned. The purpose of the project is to encourage students to do research on Black History, because of the ongoing Black History activities that are occurring at BIA. Many parents have asked for extensions on the project, please be mindful that I am looking for a small poster 8x11, that shows me that the student has went out to do their own research on Black History and has learned a couple of facts. This poster does not need to be an extravagant poster. Spelling homework has not been assigned this week, so that students can work on the poster. The poster does not need to be printed, it can be handwritten and pictures can be drawn. Please aim to submit the project on time to celebrate the ending of Black History Month. If you are unable to do so, please submit by 3/5 for a grade.
2/25: No Spelling Homework/Test this week! Students will be working on their Black History Month Poster due on March 1, 2018. This week BIA will be celebrating Black History week with a showcase on February 28, 2019 at 5PM in the multipurpose room.
** Class Group Picture Day- Students must be in uniform.
2/22: Spelling Test # 7 on Friday
2/21: Vocabulary Test on Thursday (3rd Graders Only)-2 hr delay, test moved to Friday
2/20: No School due to inclement weather
2/19: Students will start working on poetry this week.
2/18: No School- President's Day
2/15: Students will review the lesson on recounting sequence of events in a fiction text. We will be reading Juan Bobo in class and practice retelling the major events in the text. This will help students pay attention to details and become better readers.
2/14: Happy Valentines Day! Students will continue to work on their reading benchmark test.
2/13: Students received homework # 7; homework is due next Friday on 2/22. No spelling test this week, the test will be on Friday 2/22. Third grade students received their vocabulary words, the vocabulary test will be next Thursday 2/21. In class, students will be taking their reading benchmark test for progress monitoring.
Update for 3rd Graders: Third grade students will also be tested on the spelling of vocabulary words on Friday's spelling test, each week students have 6-8 new vocabulary words. The purpose of this is to make the spelling test a little more challenging. Third graders will now be tested on 21-23 words.
2/12: No School due to Inclement Weather
2/11: No School due to Inclement Weather
2/8: Spelling Test # 6
2/7: Students are working on recounting the sequence of events from a fiction text. Students understand that a story follows a certain order of how things happen. Sometimes the events are not given to you in order, but we understand that A must happen before B, even if C was given first.
2/6: Half Day for Students- Vocabulary Test # 4 for 3rd graders ONLY
2/5: Students are working on identifying and writing from a different point of view. Students understand that the point of view (POV) is being able to think like someone or something else. The point of view also refers to who (narrator) is telling the story, is it 1st person (me), 2nd person (you) or 3rd person (he/she). By understanding the point of view of the text, students are better able to understand the text and make connections with their personal life.
2/4: Students received Spelling Homework # 6, the test will be administered on Friday 2/8. This week all our words are compound words (2 smaller words put together to make one bigger word, EX: sun + shine = sunshine).
2/1: Spelling Test # 5. Students will start lesson on identifying different points of view.
1/31: 2 hour hour delay for school. Students will continue to revew contraction (spelling) words in class and review lesson on character traits, motivations and feelings.
1/30: Vocabulary Test # 3 for Third Graders ONLY
1/29: Students reviewed the spelling words (we had a lesson on contractions-contraction is a shorter way to say two words, we use it everyday in our reading, writing and speaking) and lesson on character traits, motivations and feelings. 2-hour early dismissal due to Inclement Weather
1/28: Students received Spelling Homework #5 (due on Friday 2/1). In class, students are working on using details from a story to describe character traits, motivations and feelings. Students understand that character traits are behaviors and attitudes (loyal, kind, caring, responsible etc.) not physical appearances (long hair, tall, blue jeans). The character motivation is what the character wants to get out of the task (safety, recognition, love, fame). Character feelings refer to the emotions of the character and they might change from throughout the text.
1/25: No school on Friday due to Professional Development
1/23: 3rd Grade Vocabulary Test # 2 on Wednesday
1/22: Spelling Homework and Test due on Tuesday. Evening Parent Teacher Conference from 3:20PM-5: 15PM
1/21: No school-Martin Luther King Jr. Day
1/16-1/18: Students are currently working on identifying the cause and effect relationship in fiction and nonfiction text. Students understand that the cause and effect relationship connect events in the text. The cause is WHY something happens. The effect is WHAT happens. The cause happens first, but doesn't always appear first in the text. Keywords that show a cause and effect relationship: because, since, so, if then, before, after. For example: Jenny forgets to set her alarm (cause), so she was late for school (effect).
1/15: Homework # 4 was given to the students. Homework (is due) and Test will be given next week on Tuesday 1/22. 3rd Grade students will have their vocabulary test on Wednesday 1/16.
1/14: Snow Day-No School
1/10: Students are working on asking and answering questions about key details from the text Gila Monster's Burrow (informational text). Students know that they can ask and answer question before, during and after they read a text. By asking and answering questions, students are able to understand and think about what they read.
1/9: Students in the 3rd grade received their first list of vocabulary words. ONLY 3rd graders will be getting vocabulary words (on Wednesday), in addition to the spelling words they get on Monday. The vocabulary test will be given the following Wednesday. Please refer to the sample test questions for practice (scroll down for the words). Vocabulary will help students with their IREADY and PARCC tests. Word is exposure is even more important.
1/8: Students are able to identify facts and opinions. Students understand that sometimes what we read contains the author's opinion and it is okay to disagree with the author (and have our own perspective.)
1/7: Students practiced making predictions and supporting their predictions with evidence (clues) from the text. Readers make prediction to better understand what they read. It also helps the readers pay attention to the clues (evidence) from the text. Making predictions makes reading more enjoyable. Spelling Homework and Test #3 due on Friday 1/11/19
1/5: Students did an outstanding job on their reading project. Please make sure you submit a project for your child (even if it's late). Projects are worth 50% of the students' final grade. Continue to practice reading at home everyday.
1/4: Students are currently working on identifying the main idea and key details of fiction and non-fiction text. Students understand that the main idea is what the text is mostly about or what the author wants the reader to take away. The details are the facts that help support the main idea. We will continue to work on this skill throughout the school year. This is an important skill to master to prepare our students for IREADY and PARCC.
1/2: No Spelling homework this week. Reading Project due on Jan 5, 2019.
1/1: Wishing everyone a Happy New Year!
12/19: Quarter 2 Progress reports will be coming home this week. Please review your student's grades on parent portal. Progress report card grades are not permanent (there will be additional assignments added). There is still time for your child to improve his or her grade before the quarter ends. Students who did well on the progress report card, need to maintain their performance in all areas to retain the grade.
12/18: Students will be coming home with their IREADY Reading reports today. Please look in their folder or backpack for this report. If you have any questions, please feel free to email me. Additionally, it is recommended that students' login to I-ready.com to complete the lesson assignments. The username is the Students ID: XXXXXXXbccs and the password is just the StudentID: XXXXXXX. It appears that students who review and complete the lessons have improved on their IREADY test scores.
12/17: Students will not be given spelling homework this week, instead they are given their Winter Packet Homework on Monday 12/17. The packet is due on Wednesday, January 2, 2019. I apologize for the typos on the mini-sheet that came with the homework packet. Additionally, the dates were confusing as I put 2018 instead of 2019. I have also made some adjustments for the project and extended the deadline from 12/21 to 1/5.
12/14: We are now currently done with all IREADY testing in Reading and in Math. Normal class schedules will resume next week.
12/11: Students in the 2nd and 3rd grade are in the process of completing their reading I-READY. Classes are not meeting at a normal schedule. Students should be working on their Reading Project Due 12/21. Online submission is available via ClassDojo, email or flashdrive.
12/10: No Spelling Homework this week due to I-READY Testing
12/7: Quarter 2 Project Grading Rubric and directions were given to the students to bring home on Friday. If your child has misplaced it, scroll to the bottom of this webpage for the project directions.
12/6: Students are able to compare and contrast character traits within in the same text (we read the Prince and the Pauper). Students wrote compare and contrast statements by using keywords such as both or but. We will starting our lessons on text features next week (there might be some disruption in our lessons due to testing).
12/5: Half Day dismissal at 11:45AM
12/4: We compare (look for things that are the same) and contrast (look for things that are different) in our everyday life. We can better understand what we read, when we can compare and contrast what we read. We can compare and contrast within the same text or between two different texts. Some of the factors we can compare and contrast include: fiction/nonfiction, characters, setting, tone of voice, moral of the text, illustrations/pictures, and the topic.
12/3: Students are working on comparing and contrasting by using a Venn diagram. Students understand that compare means looking for something that is the same or similar and contrast means looking for things that are different. Students are able to recognize keywords that indicate compare or contrast. Students drew Venn diagrams comparing and contrasting apples and bananas. This lesson will help set the stage for students, when they start comparing and contrast text.
12/1: For the next two weeks (12/3-12/14), students in the 2nd and 3rd grade will be taking the middle of the year (MOY) IREADY test in reading and math. Please make sure your child is well rested and comes to school everyday. Students could prepare for the IREADY test by logging onto to I-READY.com and completing the online activities and lessons. Students should also bring in their own earphones or headphones for the test. If you don't have one at home, the test proctor will provide your child with one to use during the test.
11/29: Students should be studying their spelling words for the spelling test on Friday. Students in 2F-Aloussi and 2S-Rodriquez will have their spelling test on Monday 12/3 instead. Homework should also be turned in on Friday.
11/28-11/29: Students are currently working on exploring the different literary elements or parts of a story. Fiction text has literary elements that help us understand what we read. We focused on the 5 elements: characters- who is the story about? setting-when and where a story takes place?, plot- what happens (beginning, middle, end) in the story?, problem-what challenges or problems does the character (s) encounter?, solution-how was the problem resolved or how did the story end? Students were read Sylvester and Magic Pebble and asked to identify the 5 elements. Student had conversations with their peers on making predictions and the moral of the text.
11/27: Students continue to work on identifying the differences between fiction and non-fiction text. Student were able to watch videos on the two different types of text and read Weather by Kristin Rattini and The True Story of the Three Little Pigs by Jon Scieszka (2nd graders). Third graders read the Monarch Butterflies and the Closet Creature. Fiction text is a make believe "story", read to enjoy, read in order, has a moral-lesson, not based on real life events, allows the reader to make predictions and has literary elements. Non-fiction text is true information, read to learn about a topic, read in any order, teaches the reader on the topic, based on real life evnts, information is given to the reader and has text features.
11/26: Hope everyone had a well rested Thanksgiving Break! In class students are working on understanding the difference between fiction and non-fiction text. This will help pave the way into fiction text-literary elements and nonfiction-text features. Students should also be completing daily activities on I-READY.com in preparation for their Middle of Year (MOY) test that will be administered in the month of December. Spelling homework # 1 was given to the students today. The format of the homework has changed, please complete and return the homework for grading on Friday.
11/20: Hello Parents, I am super excited to be returning to work after my maternity leave. I look forward to working with you and your child. For the next two days students will be reviewing classroom rules and procedures. We will also quickly dive into reading by reading a story about Thanksgiving. Students should be coming home with a welcome letter and information about our classroom website. Additionally, when we come back from Thanksgiving break students will be getting a new homework assignment from me. I will review the format of the homework with the students in class.
Introduction- Welcome Letter
 Dear Families of 2nd and 3rd Grade Students,
    Welcome to the 2018-2019 (a little bit late) school year at the Baltimore International Academy! I will be your child's second/third grade reading teacher, and I look forward to working with you in the coming year. Last school year was my first year teaching at BIA, prior to BIA I have taught in other 3rd and 4th grade classrooms in Baltimore City. I am extremely excited to return after my maternity leave and can't wait to work with you and your child.
Second and third graders will be busy this year working on new skills to read and write. Students will shift their focus from word decoding and basic comprehension to deeper comprehension and analysis of text. Which means students are reading to learn as oppose to learning to read. This is a fundamental skill needed to prepare our students for future success especially in college and in the work force.
While I know that this group of students are talented and motivated by nature, I would like my students to be invested in our Big Goal, which is broken down as follows: students will grow at least a year in reading comprehension, students will be able to learn new writing strategies and construct paragraphs, and students will be able to show proficiency on their IREADY and PARCC assessments. Students will be reminded of these goals, throughout our daily lessons and activities.
I also want to use this letter as an opportunity to explain my management system. As the students are growing older and more responsible we are expecting students to manage themselves and know the difference between acceptable and unacceptable. To help students learn and monitor their behavior, I will be using various classroom incentives and consequences. Students who behave well in class will be rewarded for their behavior with BIA Bucks, which can be redeemed for prizes at the International Store. Additionally, for the different classes they will have an opportunity to earn class points toward a class party. As for consequences, depending on the severity of the behavior, students will be getting verbal warnings, a phone call home about the behavior, detention and possible office referral. If you have any questions feel free to email me at VXCHENG@bcps.k12.md.us.
IREADY Reading Data Scores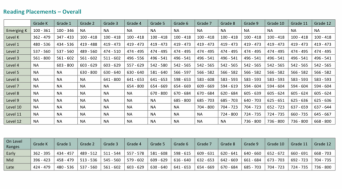 Suggested Reading List for 2nd and 3rd Graders 


School Wide Grading Policy
50% Assessments and Projects
20% Quizzes and Exit Tickets
20% Classwork and Participation
10% Homework
Vocabulary Lists (3rd Graders Only)
List # 1: Given to the students on 1/9/19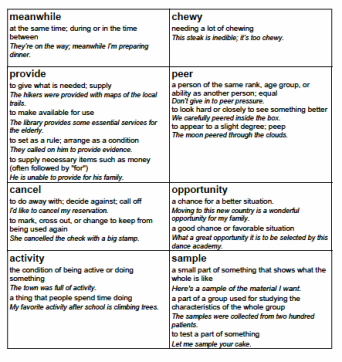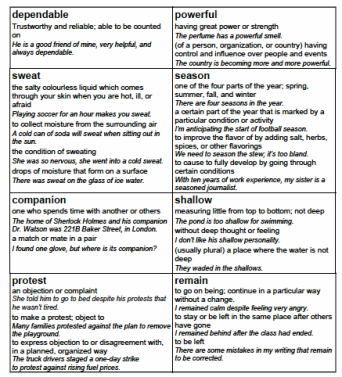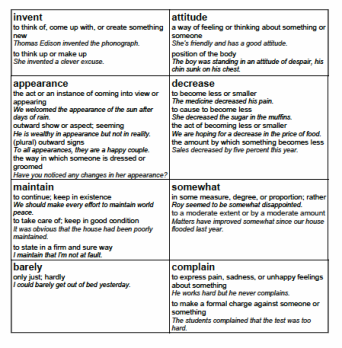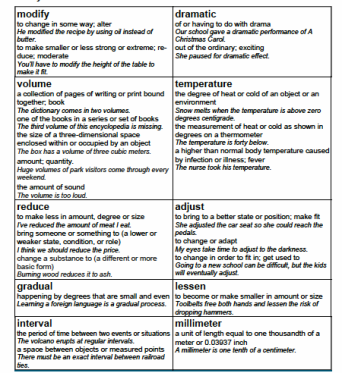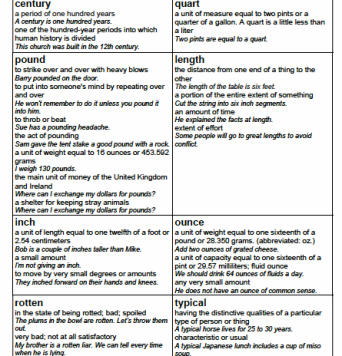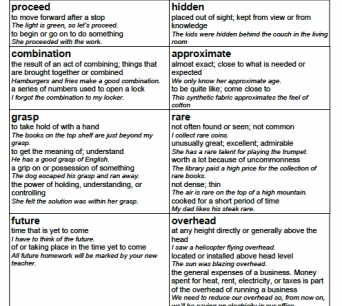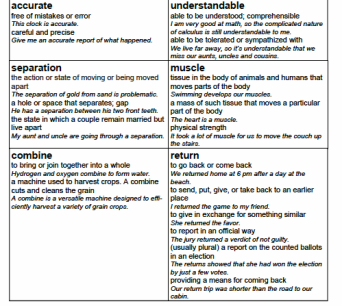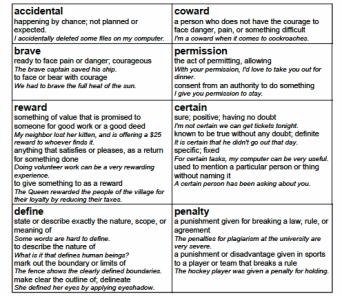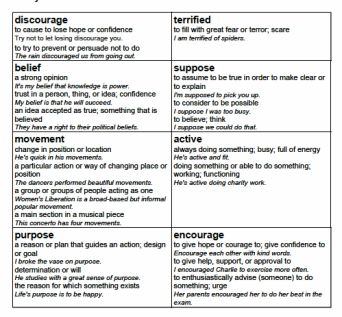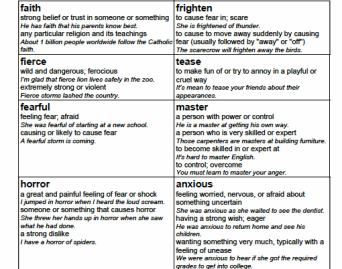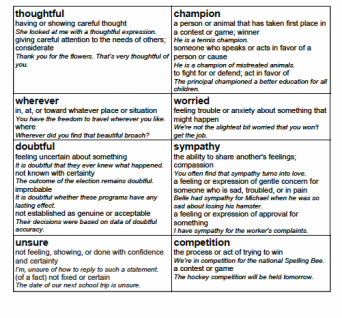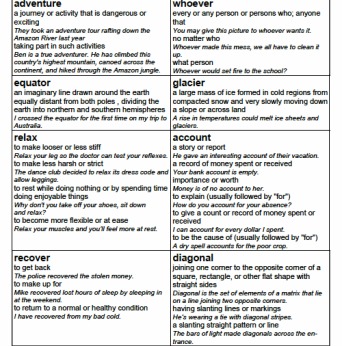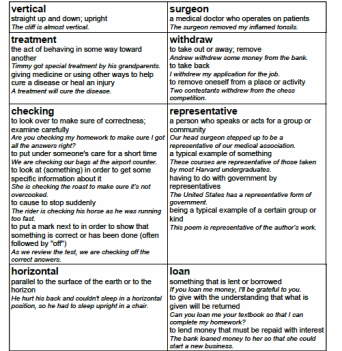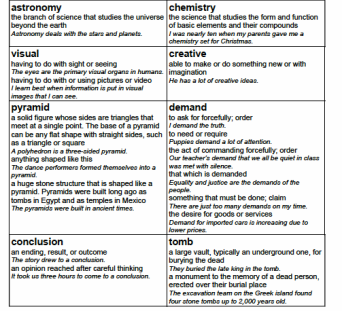 Homework 


Your child will be required to read and complete spelling homework everyday. Homework needs to be checked by a family member every night. Updates, letters, and announcements will also be sent home with your child and updated on the classroom website. I cannot stress enough how much better students do in class when they read at home.
Please explain to your child that not all words have synon Antonyms. Students will recieve spelling homework on Monday. All spelling activities will be on one worksheet. Students can work on the homework at their own pacing or separate sheet of paper. Spelling homework should beturned in on Friday. Homework will account for 10% of the students' final grade.
 Spelling Homework (15-20 minutes daily) 
Monday: Choose 8 spelling words and write a sentence for each word 
Tuesday: Choose 5 spelling words and write the definition of the word
Wednesday: Choose 5 spelling words and write the antonym and synonym of the word
Thursday: Choose 10 spelling words and write each spelling word 3 times each -Study!!!!
Friday: Read for the weekend!
 Read at Home (30 minutes daily) Don't have a book at home? Borrow a book from the classroom library, visit the local library or check out http://www.storylineonline.net
In class students will work hard to.... 
 Become better Readers 
 Become better Writers 
 Become better Speakers 
 Learn new vocabulary words 
 Prepare for our IREADY and PARCC Assessments
 Prepare for the 3rd and 4th grade 
 Prepare to become college and career ready
Homework # 11 (3/11-3/18)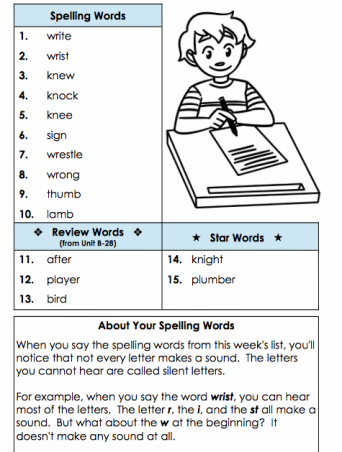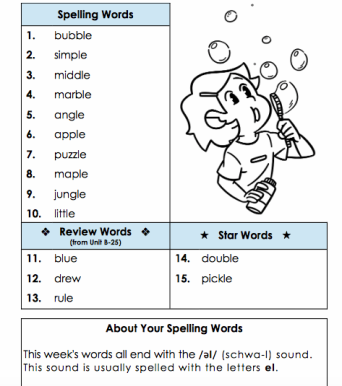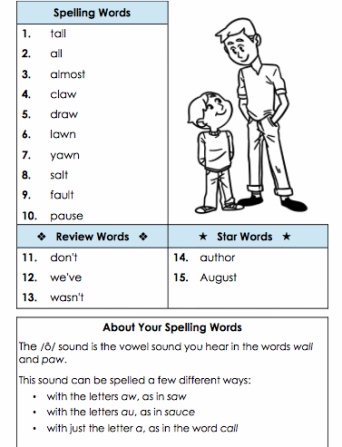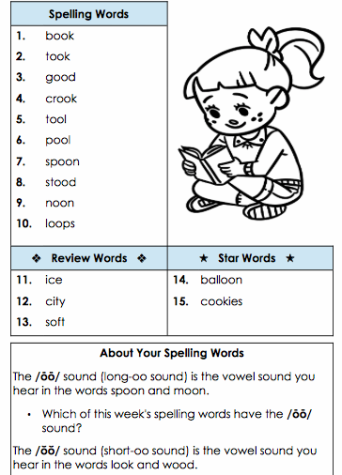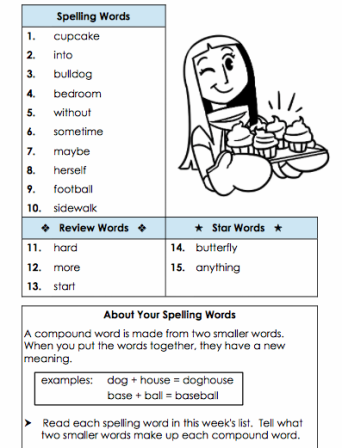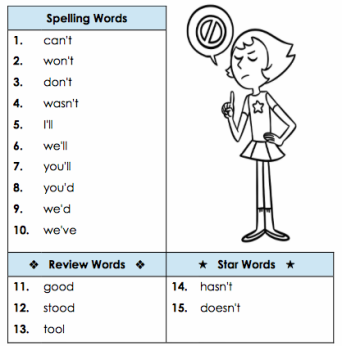 Week (1/21-1/25): No Homework due to No School on Monday and Friday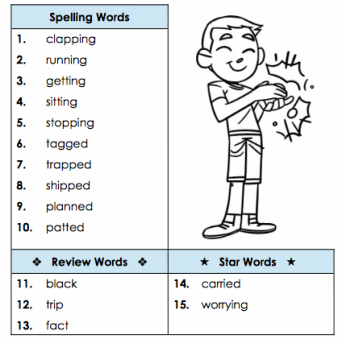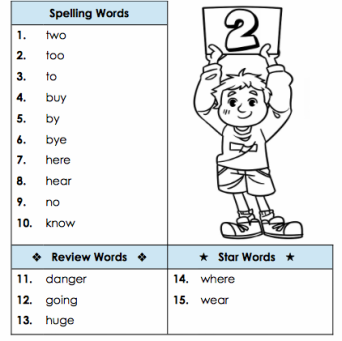 Week 12/1-1/2: Winter Packet Homework
Homework # 2 (12/3-12/7) This week's spelling words are days of the week and numbers.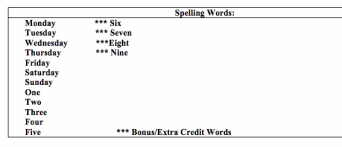 Homework # 1 (11/26-11/30) This week's spelling words are months and seasons of the year.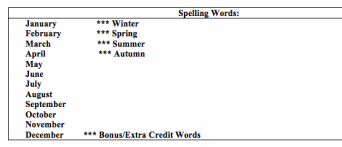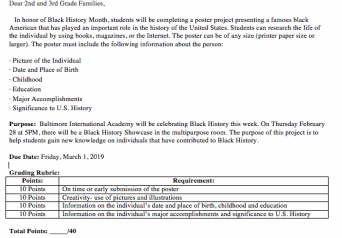 Quarter 2  Project
Dear 2nd and 3rd Grade Families,
To prepare our students for school and long-term success, I will be using online videos and resources in class to instruct your child. This year, I will be using ClassDojo to help with teacher and parent communication. I will also use ClassDojo to assign online homework and projects. This will help our students with computer testing and prepare them for college as many college level courses are offered online. Additionally, computer/technology skills are critical in helping our students succeed in the future workforce. I have sent out the invites from ClassDojo, please sign up promptly to get access to classroom updates and announcements. Parents can access ClassDojo via a cellular phone, tablet or computer.
For every marking quarter, students will be required to complete a project. I will be assigning this project through ClassDojo. Students will be required to choose a book of their choice and make a video of them reading the book.
When you read a story aloud, you'll want to sound your very best.
Here are three skills to focus on when you read.
· Reading with Accuracy - Be sure you read and pronounce words correctly
· Comfortable Speed- Try to read at a speed that's easy to listen to and understand. Don't read too fast or too slow
· Expression- Try not to read in a robotic voice. Vary the pitch, volume, and tone of your voice.
Purpose: The purpose of this project is help students master reading fluency and encourage reading at home. It is difficult during the school day for me to hear every child read in the classroom, by completing this project it will help me better understand your child's reading needs.
Due Date: Friday, December 21, 2018
Requirements: Students will be required to read a fiction text that is grade level appropriate (the choice is yours). The video should be about be about ~5-10 minutes long. Try to choose a text that uses a variety of vocabulary words and expressions. Students should practice multiple times before making a final recording. Parents can opt to do a voice record if you do not prefer to make a video recording. Parents who prefer not to use ClassDojo can submit this assignment by emailing me at VXCheng@bpcs.k12.md.us or by uploading it onto a flash drive for me to review.